Nail Designs: An ever-increasing trend of nail grooming with flourishing whirly nail designs, intense color touches, and abilities is being introduced in both the fashion and beauty industries.
The changing trend of nail art surprises us with the latest designs and colors in fashion.
With rising and constantly changing fashion trends. It is necessary to stay current and fashionable in order to beat the trend.
Acrylic Nails :
Acrylic nails are a great way to adorn your hands. Here are some great acrylic nail designs for you to try.
Acrylic nails make the hands look more attractive. If you want to furnish your fingernails, one of the best ways to do so is to get acrylic nails done. You can lengthen your fingers by using various shapes, lengths, and designs. From cute texts to animal prints, Here are some great acrylic nail designs for you to try.
1. Animal Print Acrylic Nails :
Whether it's 2022 or any other year, animal prints are always in demand for clothing, accessories, and acrylic nails. One of the simplest acrylic nail ideas is animal print and checks with various colors.
To make your nails look beautiful, experiment with different colors, sizes, and animal prints. You can select zebras, giraffes, cheetahs, leopards, snakes, tigers, cats, and other animal prints and stripes. What animal is your spirit animal? You can even use it as your hand's nail design.
If you like these nail designs >> Get Now
---
2. Gray Acrylic Nail Designs :
Gray nails look great on all skin tones and come in a variety of shades ranging from light to dark. It is an easier-to-wear alternative to black and works well with other colors, such as blues or even reds, to create a contrasting look.
Depending on the nail shapes and artwork you choose, this chic color can also be edgy and alternative. Mix grey polish with silver glitter for a shimmery finish.
If you like these nail designs >> Get Now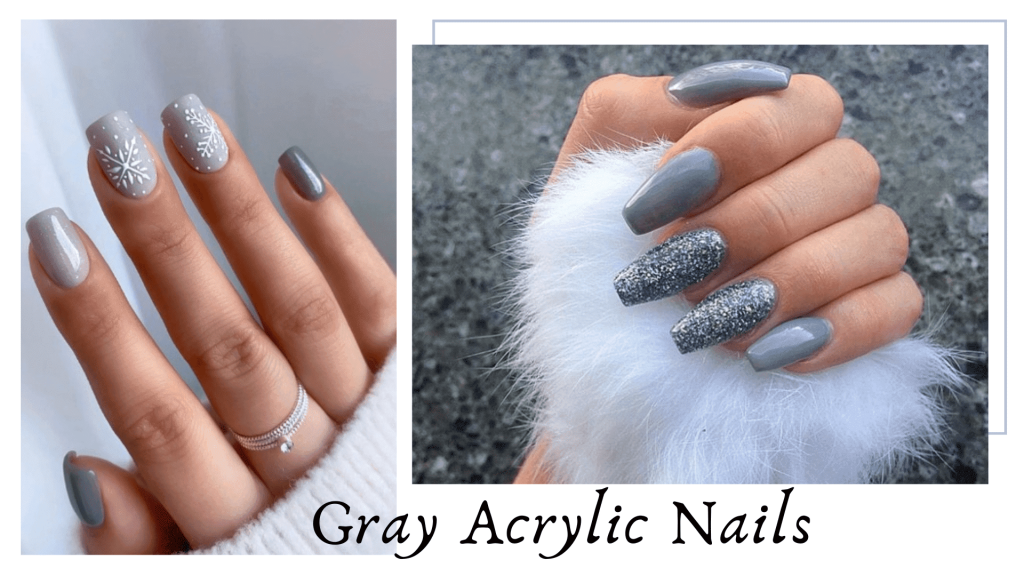 ---
3. Cool Black Acrylic Nails :
Black is never out of trend, and these long, jet-black nails will turn heads and grab all the attention. The black color is frequently associated with elegance, classic, power, and strength.
It is an evergreen and versatile color that can be worn with a wide range of outfits and accessories. Black acrylic nails look great at a fashion show or on a date night.
If you like these nail designs >> Get Now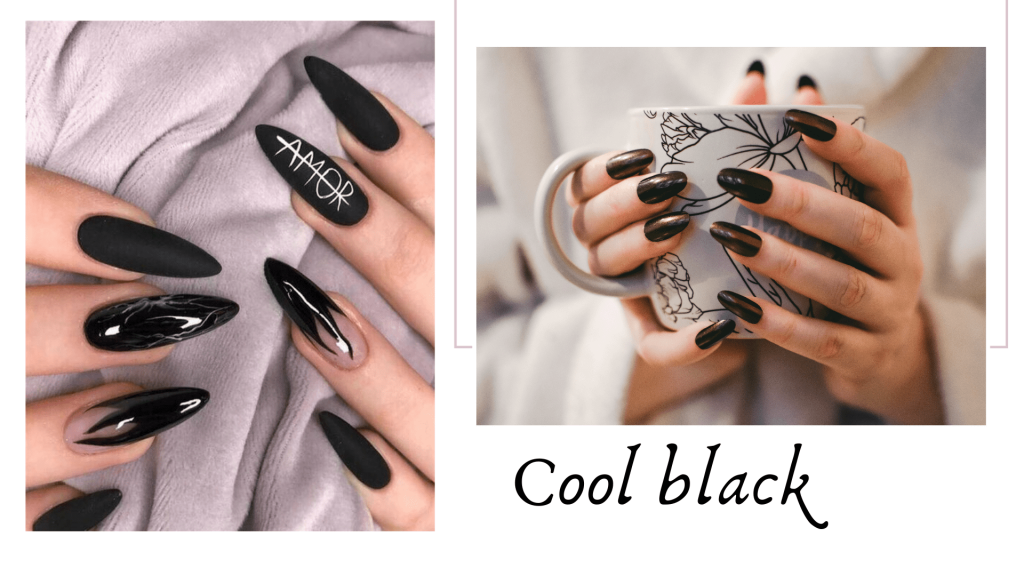 ---
4. Glitter Acrylic Nails :
This is one of the best acrylic nail design ideas as it is impossible to go wrong with this design. You can obtain glitter nail designs in different looks like silver, purple, pink, red, and so on. With this fantastic look, you can go all shimmery and glittery.
If you like these nail designs >> Get Now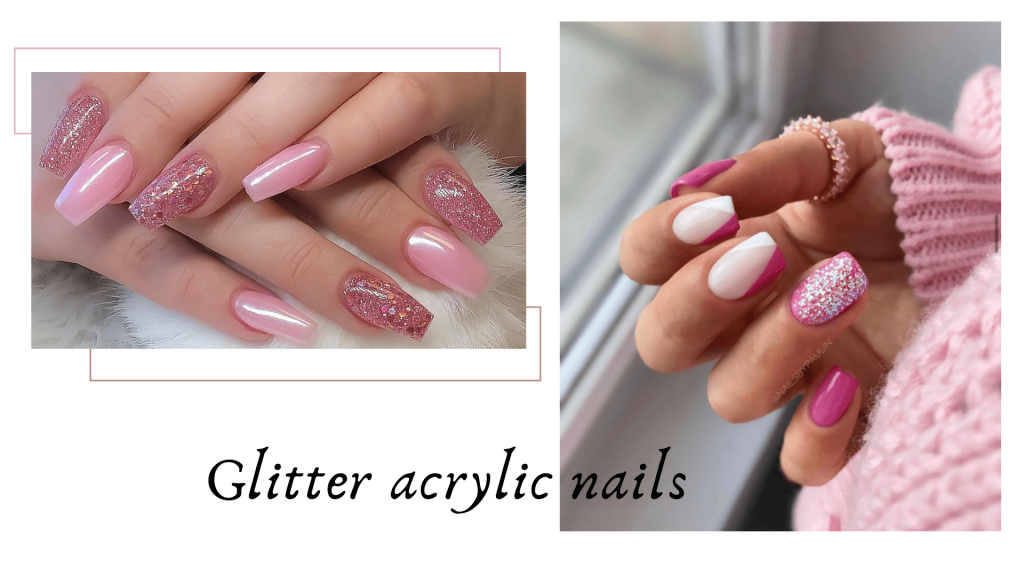 ---
5. The Red Revolution
If you want simple, short acrylic nail designs, this is the one to go for. Red is a classic color that suits everyone and looks great on everyone. It represents love, courage, passion, and self-assurance.
Red acrylic nails, paired with a matching outfit and red lipstick, will instantly draw attention to you. With this amazing nail design, you can go red and shine brightly.
If you like these nail designs >> Get Now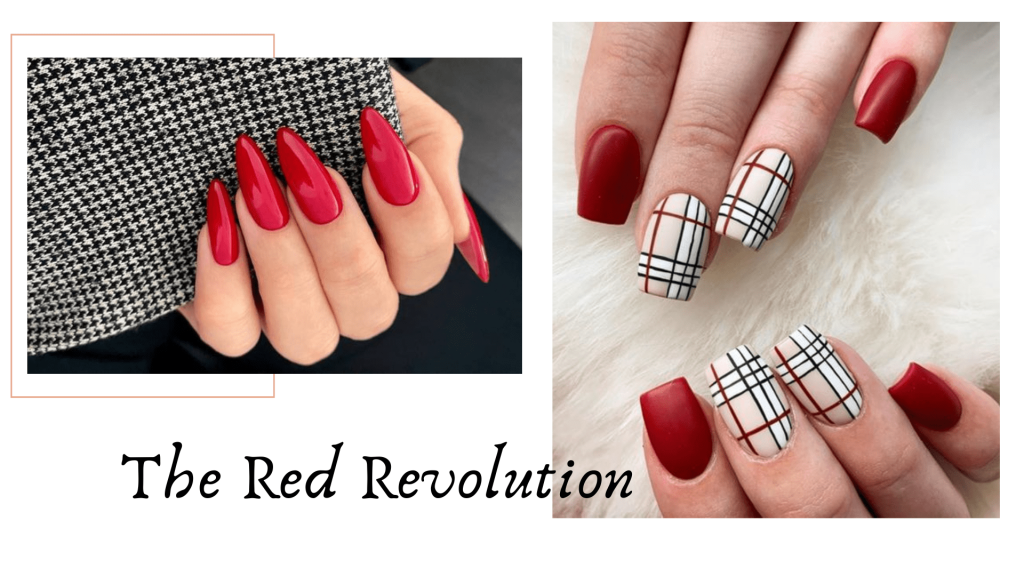 ---
6. Acrylic Nails for Summer
Summer nails are designe to reflect the summer season and what it means to you. This can achieve through the use of bold and bright colors, cute flowers or sweet logos such as ice cream and fruit, and interesting nail shapes.
Summer is a time for relaxation and fun, and these nails will put you in the mood for a vacation. Short nails do not allow for as much detail in nail art, but they can be just as creative, allowing you to express yourself. You can also play around with different shapes, ranging from pointy to square. Acrylic nails are ideal because they are strong and long lasting, making them an excellent alternative for women with weak nails.
If you like these nail designs >> Get Now
---
7. Sharp on the edges
One of the best acrylic nail ideas for 2022 is this duo-contrast nail design. This acrylic nail design is the best if you enjoy sharp tips and dual tones on your nails.
The length is perfect for people who prefer their nails to be neither too short nor too long. You can choose different colors and create a great aesthetic look for your fingers.
If you like these nail designs >> Get Now
---
8. Face Art Acrylic Nail Designs :
If you're looking for a modern yet sophisticated acrylic nail design, then this one is for you. To allow the faces to shine, choose a solid background with bold shading. This is one of the best quirky acrylic nail ideas for those who love creativity and experimenting with new things.
If you like these nail designs >> Get Now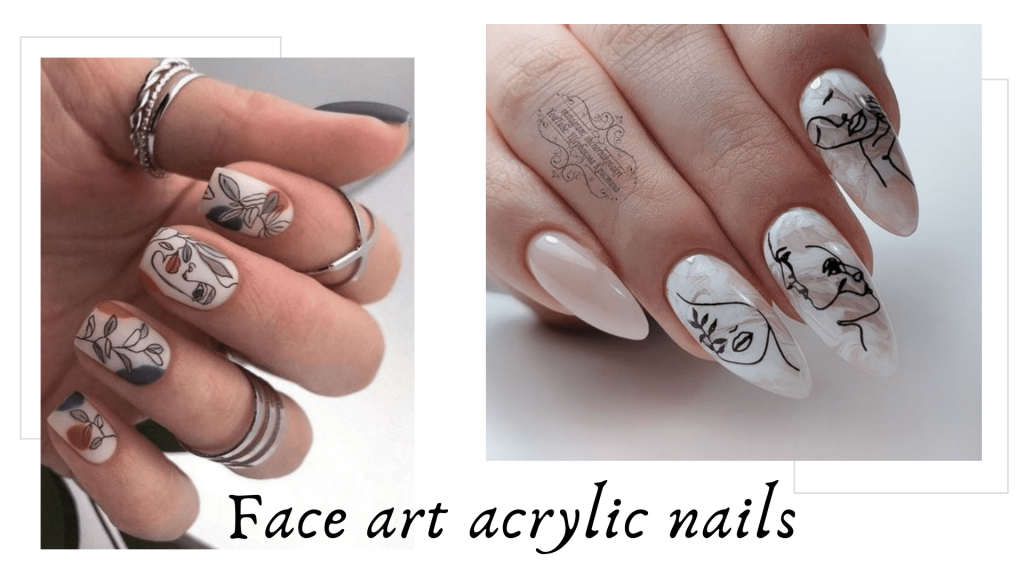 ---
9. Luxury Vibes Acrylic Nails :
This is a design that exudes luxury and femininity and makes it more beautiful or attractive with any outfit. The design is modern and stunning – all in all, this is one of the best acrylic nail designs for those looking to glam up their look. This is also one of the other designs you can wear on your special day.
If you like these nail designs >> Get Now
---
10. Colorful Orbs Acrylic Nails
Each finger has a different color with polka dots – a great design for everyday use. Look no further if you're looking for simple dotted acrylic nail ideas!
Polka dots are stylish and classic, and they can be done in a variety of sizes and colors. You can change up the look by using different dot shapes and blending shades.
If you like these nail designs >> Get Now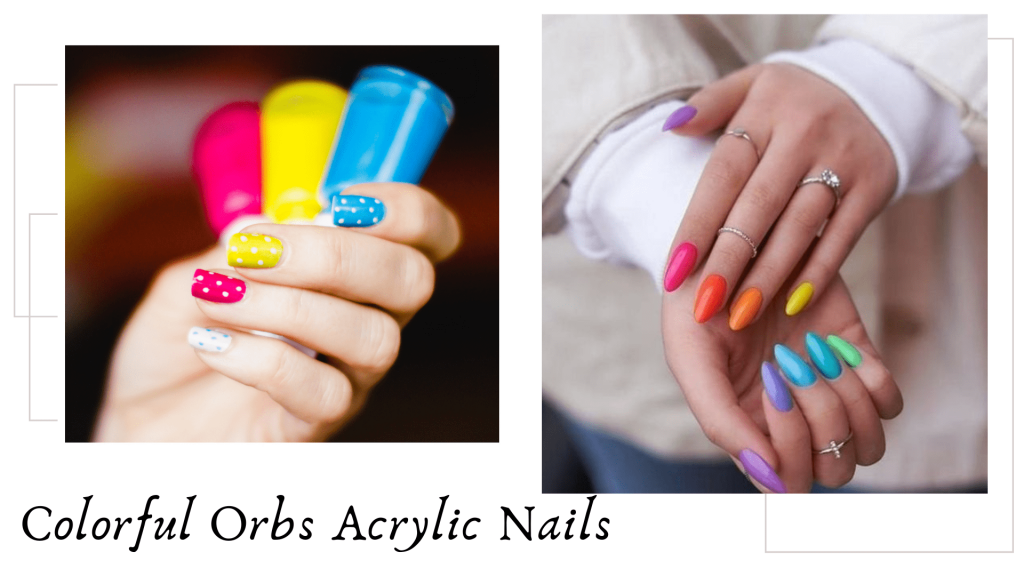 ---
11. Short Marble Acrylic Nails :
What about making your nails look like marble? Isn't it a fantastic idea? You can achieve any appearance you desire. Here's an example of a classy design. This manicure is perfect for any nail length, shape, or occasion. You can replicate this look or experiment with your own marble manicure.
If you like these nail designs >> Get Now
---
These are fantastic designs that complement any outfit or accessory. You can make these designs in any color you want to give your hands a unique look.
Let us now learn everything there is to know about acrylic nails and how to care for them.
Benefits of acrylic nails
Many people are amazement by various acrylic nail ideas, but have you ever considered the advantages of acrylics? The following are some advantages of having acrylic nails done.
They provide strength to the nail layer, preventing nail breakage and damage in people with weaker nails. They are ideal for people who have a habit of breaking or chewing their nails.
You may believe that you must spend a lot of money on acrylics, but this is not the case. They are less expensive and lighter on the wallet than their competitors. So you can finish them without worrying about money.
There are numerous acrylic nail ideas from which to choose to give your nails an attractive appearance. Acrylics look great on the hands and can be customized in terms of shape, length, and design.
Acrylic nails are long-lasting and can be around for a month or more.
One of the most significant advantages of acrylic nails is that you do not have to spend a fortune if one of them breaks. You can easily repair it at home if you have the right tools and techniques.
They guard natural nails against the damaging effects of enamel.
How to prepare yourself before getting acrylic nails?
1 Choose a design: It is imperative to have a few acrylic nail ideas in your mind before you get it done. Do you want short or long acrylic nails? Which shape do you want? Do a lot of research on these and have a few designs in mind before going to the salon.
4 Keep your nails clean: Acrylic placement is frequently complicated by very weak and brittle nails. So, before getting acrylic done, make sure your nails are healthy and clean. Even if you have acrylic nails, you should clean them on a regular basis.
Read also >> How to Keep Your Nails Healthy
3 Inspect the tools: It is critical to ensure that the tools used by your nail artist are sterilized. Because unsterile tools can spread a variety of infections, make sure to inspect them before using them.
4 After getting acrylics, take care of your nails: So, now that you have lovely new nails, you must take good care of them. Keep your hands clean on a regular basis, and wear gloves whenever you use cleaning products.
Acrylic nails adorn your hands, so use these acrylic nail ideas to get them done right away.
How much do acrylic nails with designs cost
They are typically priced between $20 and $25, but the price can vary depending on the type of material used, as well as the length and style of the nails. Nail tips are available in a variety of shapes and sizes and can be made from a variety of materials such as acrylic, gel, and silk.
Thank you!
I hope this article helps you.
If you have anything on your mind as a suggestion, feel free to let me know in the comments section. I will be happy to help you.